Wow… what a awesome week of camp! Campers got to spend an entire week away from home in a Godly environment where they had fun and learned about Jesus.
Camp Info:
Boys and girls ages 6-13 were divided into age- and gender-specific cabins.
Camp last was from July 23 through July 29, and is held at Penn Grove Retreat Center.
Cost was $300.00 per camper for the entire week.
Deposit was due at time of application to reserve your child's spot.
Nurses and Safety Personnel were on duty 24/7.
Camp staff includes well-trained interns, experienced counselors, full-time missionaries, and several volunteers.
More detailed camp information can be found below the "Cost" section of this page.
Arrival:

Camp was a great time! 
Camper check-in was 2pm-4:30pm
Hot dogs, chips, and drinks were provided to campers this evening
Be sure to pack everything you need! If you did not pay in advance, bring the required $300 per camper. See the "Cost" section of this page to find out about scholarships you may be eligible for.
Camp Activities:
Morning chapel with interactive Bible stories and scripture memorization games
Sports time (may include but not limited to):

Kickball
Soccer
Basketball
Mini-golf
Capture the Flag
Relay races
Tug-of-War
Duck Duck SPLASH
Plus other thrilling games and sports!

Crafts
Swimming
Free time – hang out with your cabin mates and do what you and your new friends want
Water sports such as water guns, water balloons, or a giant slip-n-slide!
Buy treats from the camp store
Surprise Time – anything from a giant birthday-style party to an outdoor scavenger hunt
Evening chapel with entertaining missions stories and enjoyable camper trivia
What to bring:
Dress at camp is casual. Wear clothes you will be willing to play in outdoors. Nothing revealing or immodest.
Packing Checklist:
Towels, washcloth, soap
Toothbrush & toothpaste
Sunscreen
Pillow & case
Blanket
Pajamas & underwear
Clothes for sports
Rain jacket or poncho
Tennis shoes & socks
Sweatpants with sweater or jacket
Bible with pencil or pen
Swim suit; one-piece only
Optional:
Flashlight
Camera
Musical instrument
Limit of one (1) stuffed animal
Leave at home:
Radios, all electronics (from iPods to TVs), card games, valuables, no food allowed in cabins, anything you don't want to risk getting lost, broken, or stolen.
| Fee Schedule: |  Cost per camper: |
| --- | --- |
| Non-refundable registration fee: |  $50.00 |
| Balance due by May 30: |  $250.00 |
| Total cost for the entire week: | $300.00 |
Total cost covers room, board, activities, and the camp shirt. It does not cover what campers choose to spend at the camp store.
Still too much to pay? Check out the following deals and discounts:
$50.00 Discount for completion of one series of our Mailbox Club lessons by April 1st.

Gift certificates can be awarded to children completing one series of our Mailbox Club lessons by June 1st.

Discounts are also available for sending multiple children from the same family, church, or Character Building Club.

Need-based camper scholarships can also be awarded depending on family income levels
Applicants must print this Financial Aid/Camp Discount form, mark the scholarship they would like to receive, and mail it with their application. Only one discount can be applied per child.
Congratulations for a great week of Camp!
Some pictures from the closing Closing Ceremony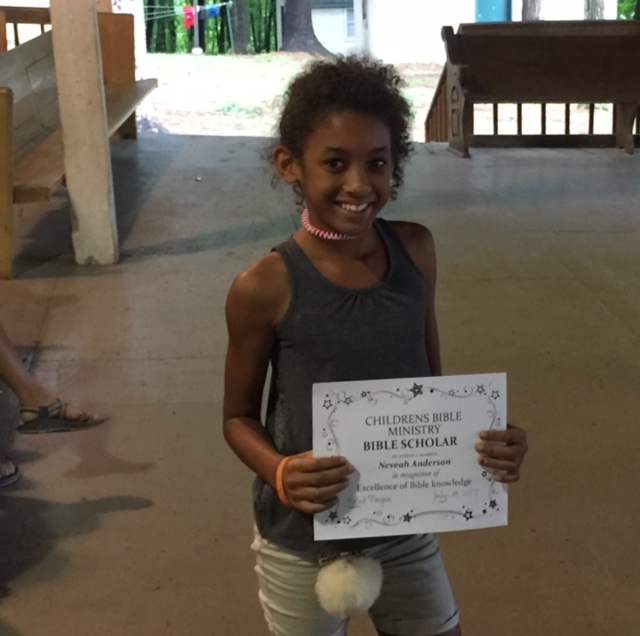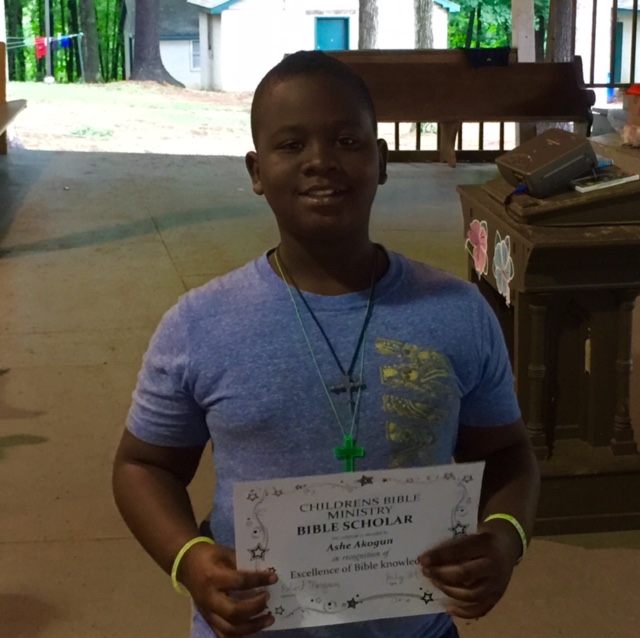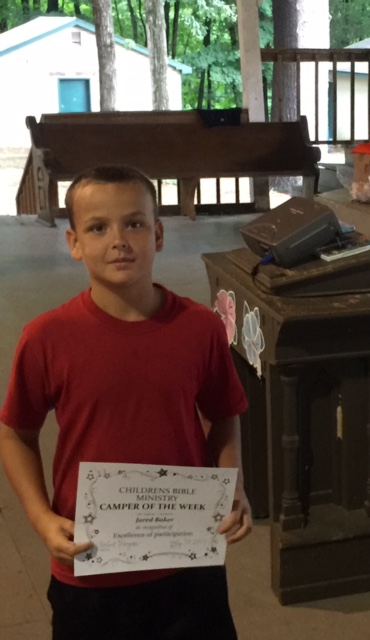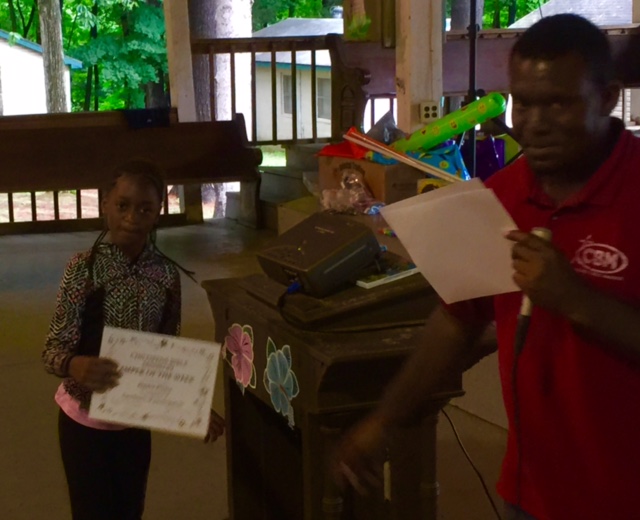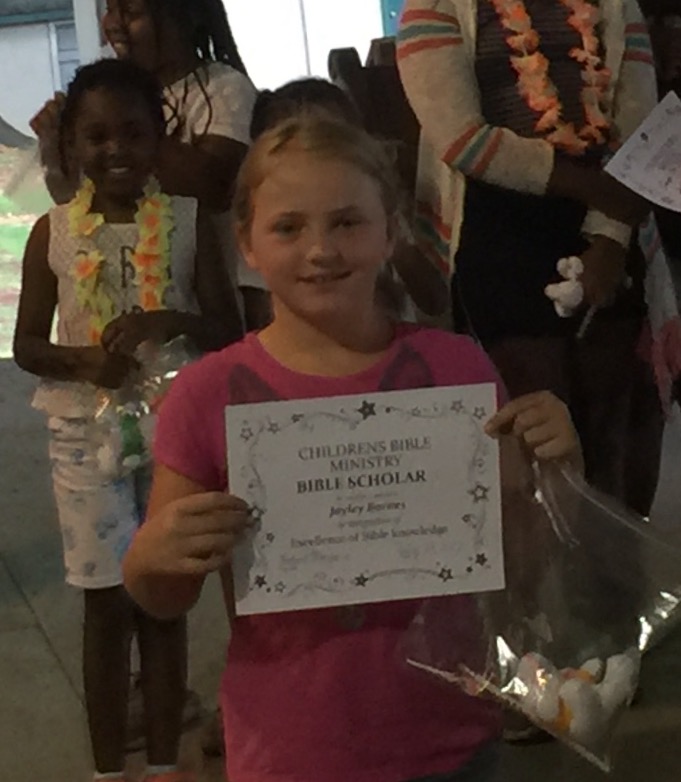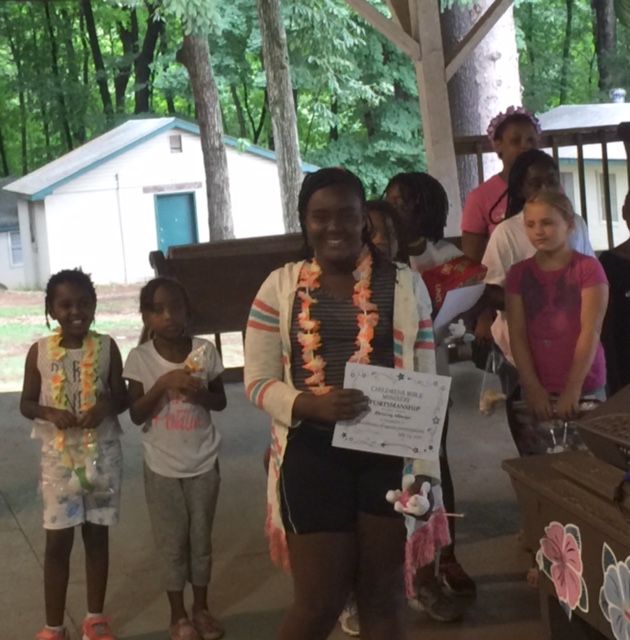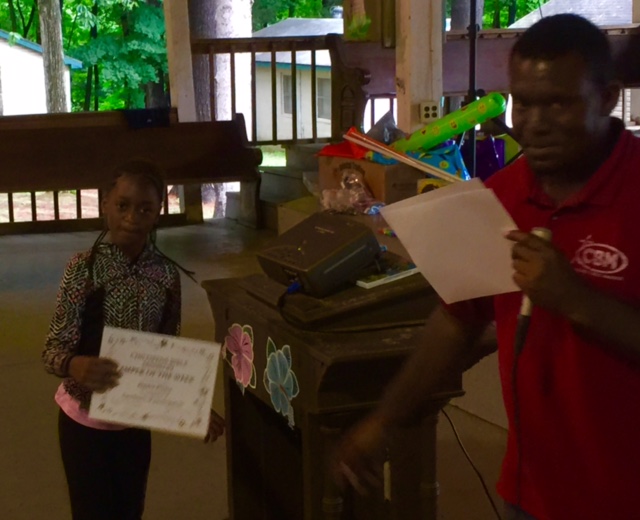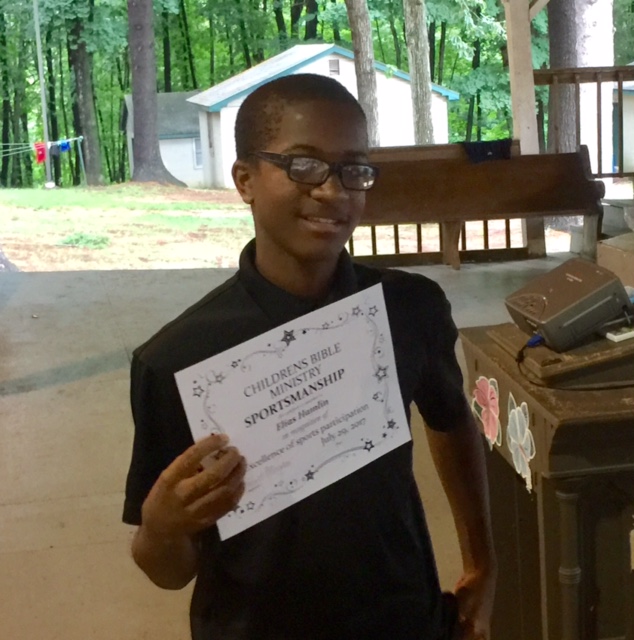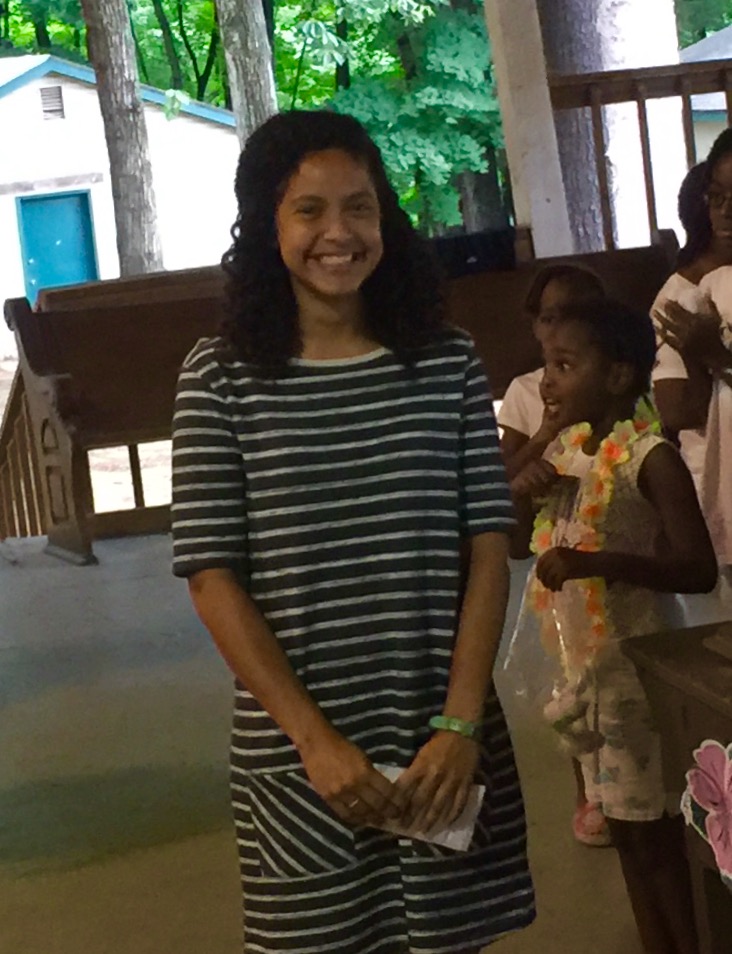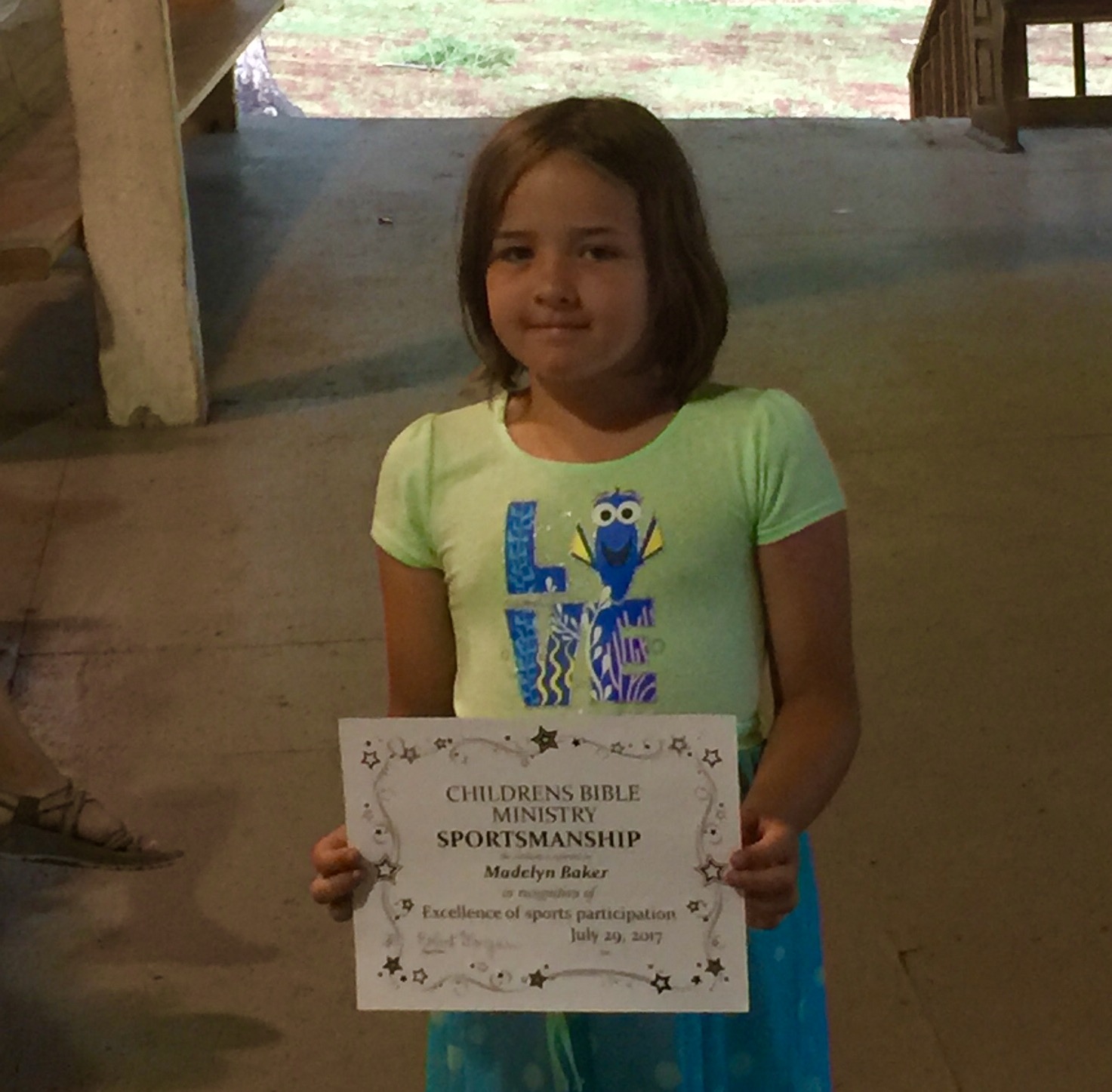 More Camp Information
Camper sign was held on Sunday, July 23  at 2pm-4:30pm.
Camp Departure was on Saturday, July 29, at 11 AM.

Staff was not available to supervise campers after this time

.
Awards Program started at 10 AM on Saturday
Camp Store is open each day. Campers may spend up to $2.00 on snacks. There is no limit on non-food items.
Accommodations: Cabins are equipped with double-deck bunks and are air-conditioned.
The purpose of CBM's camp ministry is to provide a safe and enjoyable camping experience for your children. We teach God's Word, how to know the Lord Jesus Christ, good morals, and respect for every individual. The welfare of the camper is of utmost importance to the entire staff, and a nurse is on duty at all times.
Camp Facilities: Pool, bath houses, sports fields, fishing pond, dining hall, outdoor chapel, campfire area, recreational equipment, craft room, and large indoor space for rainy day activities.
Request for staff and volunteers:
Moms, Dads, Teenage siblings, Grandparents, and anyone else older than 13 – feel free to come help out!
Positions available for Camp include:
Counselors (Counselor in Training, Buddy Counselor, Junior Counselor, or Senior Counselor – depending on qualification), Lifeguards, Nursing Assistant, Craft Directors, and Sports Directors.
Staff Goal:
The goal of the staff is to enrich each camper spiritually, physically, mentally, and socially while providing a fun and challenging camp experience.
Plan of Action:
Evangelism to the unsaved child and spiritual growth to the saved child
Bible lessons and scripture memory
Missions information and challenges
Fun physical activities and great food
Challenging wisdom, searches, and quiz-downs
Opportunity to earn cabin and individual awards
Bible Time + Missions Time + Fun Time + Surprise Time = Great Times!
Nurse(s) must be on duty at all times
A certified lifeguard will be on duty for all swimming sessions